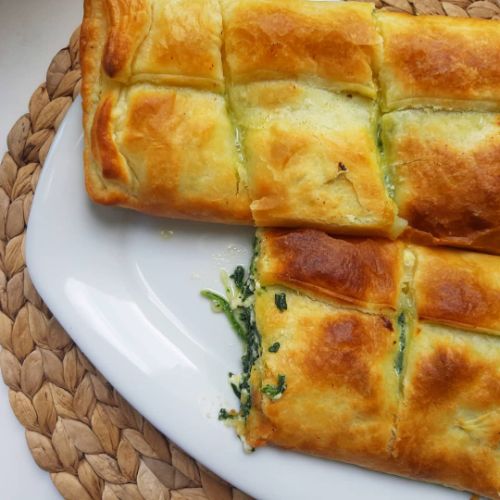 Yields:

5 Servings
Difficulty:

Easy
Prep Time:

10 Mins
Cook Time:

25 Mins
Total Time:

35 Mins
Ahhhh, the delicious Spanakopita. It is actually a spinach pie and it is one of the most popular savory Greek meals. It also happens to be one of my favorite weekend breakfasts!
It is made of perfectly crispy layers of phyllo dough and a comforting filling of spinach and feta cheese. You can make it with either phyllo dough or puff pastry dough. You can enjoy it fresh in any Greek bakery or from today on – in your own home as well!
Spread the pastry on a tray covered with baking sheet. Cover the dough with 4 tbsp of Greek yoghurt and after that, add the previously combined filling ingredients. Wrap up the dough, slightly cut the pie in 5-6 pieces and bake for 25 min at 180 degrees.