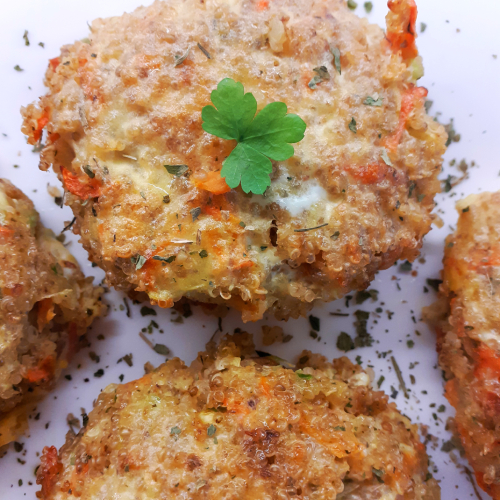 Yields:

4 Servings
Difficulty:

Medium
Prep Time:

20 Mins
Cook Time:

30 Mins
Total Time:

50 Mins
Unlike wheat or rice, quinoa is a complete protein. It contains all eight of the essential amino acids. It has recognition by the United Nations as a supercrop for its health benefits. Quinoa is full of dietary fiber, phosphorus, magnesium, and iron. It is also gluten-free and easy to digest. The facts suggest it is as close to a perfect ingredient as you can get. Check out these quinoa patties that I prepared for you and me. Perfectly soft from the inside, and crunchy from the outside!
Put quinoa in a cooking pan. Add water, 1/2 spoon salt, and bring to boil over high heat while simmering once in a while. Reduce heat do low, cover, and simmer for 15 minutes until the water from the quinoa pan has become totally evaporated. Remove from heat and let it stay on the side, covered, for another 5 minutes. After that, transfer it to a large bowl.

Finely chop the onion, grate zucchini and carrots. Chop fresh parsley. Heat olive oil in a pan, add the vegetables and cook them for 7 minutes over medium heat.

Move the cooked vegetables into the quinoa bowl, add 3 eggs, 1/2 tsp salt, black pepper, and chopped parsley. Mix the ingredients until they are well combined. After that, shape patties from the mixture with your own hands.

Option 1: If you decide to fry them, pour olive oil in a large pan. Fry the patties 3-4 minutes on each side until golden brown, and then transfer them on a plate previously covered with a paper towel. The frying option is less healthy than the baking option, but it is much less time-consuming. Take them out with a spatula.

Option 2: If you decide to bake them, place each on a baking pan, over a baking paper. Bake them in the oven for 10 minutes at 180 degrees, After that, take the pan out of the oven, cover all of the patties with a beaten egg, and bake for another 20 minutes at 200 degrees. This is the healthier version that I went for. Take them out with a spatula.