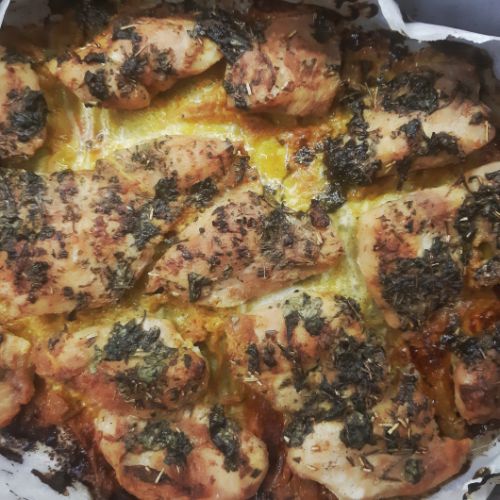 Yields:

2 Servings
Difficulty:

Medium
Prep Time:

15 Mins
Cook Time:

50 Mins
Total Time:

1 Hr 5 Mins
Turkey meat has an advantage over chicken meat because it contains 20% fewer calories, 75% less fat, and twice as much vitamin B, iron, and zinc. It also contains more protein than other types of meat and it is quite tasty. In other cultures, turkey meat is usually prepared for holidays and celebrations. Try this delicious recipe and share your thoughts!
Sprinkle the meat pieces with a little salt and coat them with mustard thoroughly.

In a separate pan, melt butter and add the chopped parsley, rosemary, and nutmeg. Sprinkle the meat with the butter and spices mixture.

Bake for 20 minutes at a temperature of 230 degrees, then bake for another 30 minutes at a temperature of 190 degrees.